* SHOWS
ARTS GARAGE EXHIBITION: Don't Dis My Ability – Perspectives from Artists with Disabilities. A Four-Man Exhibition
Summer 2023
Arts Garage, Delray Beach, FL
8 paintings by Victor, plus works by Cruise Bogle, Anthony Primavera, and Igor Edshteyn.
MIAMI ART WEEK 2022 GALLERY EXHIBITION: Art Basel Exhibition at Picadillo Art Gallery
November-December 2022
20221 NE 16 Place, Miami, FL
6 paintings by Victor, plus works by other artists
DELRAY ART LEAGUE SUGAR SAND PARK JUDGED EXHIBIT
October-November 2021
Sugar Sand Park Community Center, Boca Raton, FL
2 paintings by Victor, plus works by other artists
OPENING EXPO/RECEPTION
September 2021
EGLA-vator Co-working Space & Tech Incubator,
Boca Raton, FL
15 paintings by Victor, plus works by other artists
SMALL WORKS INSTALLATION
May 2021
MTN Space Gallery, Lake Worth Beach, FL
A collection of small works by 10+ artists, many local, 4 paintings by Victor
ART & AUTISM EXPO
April 2021
Boynton Beach Arts & Cultural Center,
Downtown Boynton Beach, FL
3 paintings by Victor, Artwork by 13 individuals on the spectrum.
POP UP ART IN PIONEER PARK
March 2021
Pioneer Park, Deerfield Beach, FL
He had been drawing so much, so when we heard about this little local art show we asked him if he wanted to set up a booth and display his paintings to the public for the first time. He was really into it and got all of his pieces ready. We kept telling him not to get his hopes up, there was a pandemic going on and hardly anyone would be there and he might not sell one… it was just to get out and show people. Well he sold 6 – we were shocked! People just responded to them in such a positive way. It was heartwarming all of the encouragement and support he got.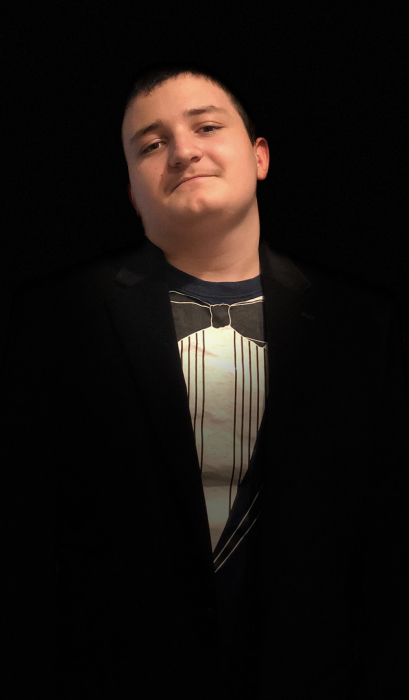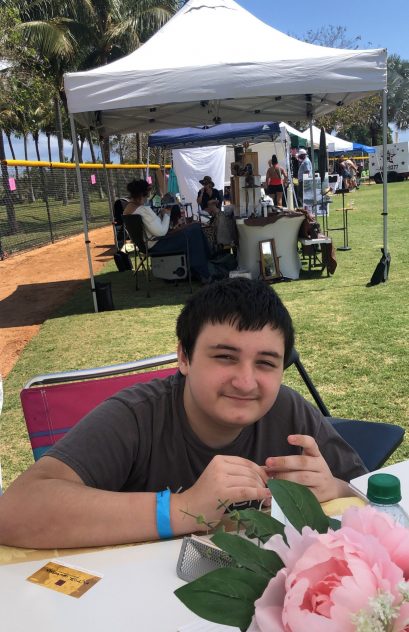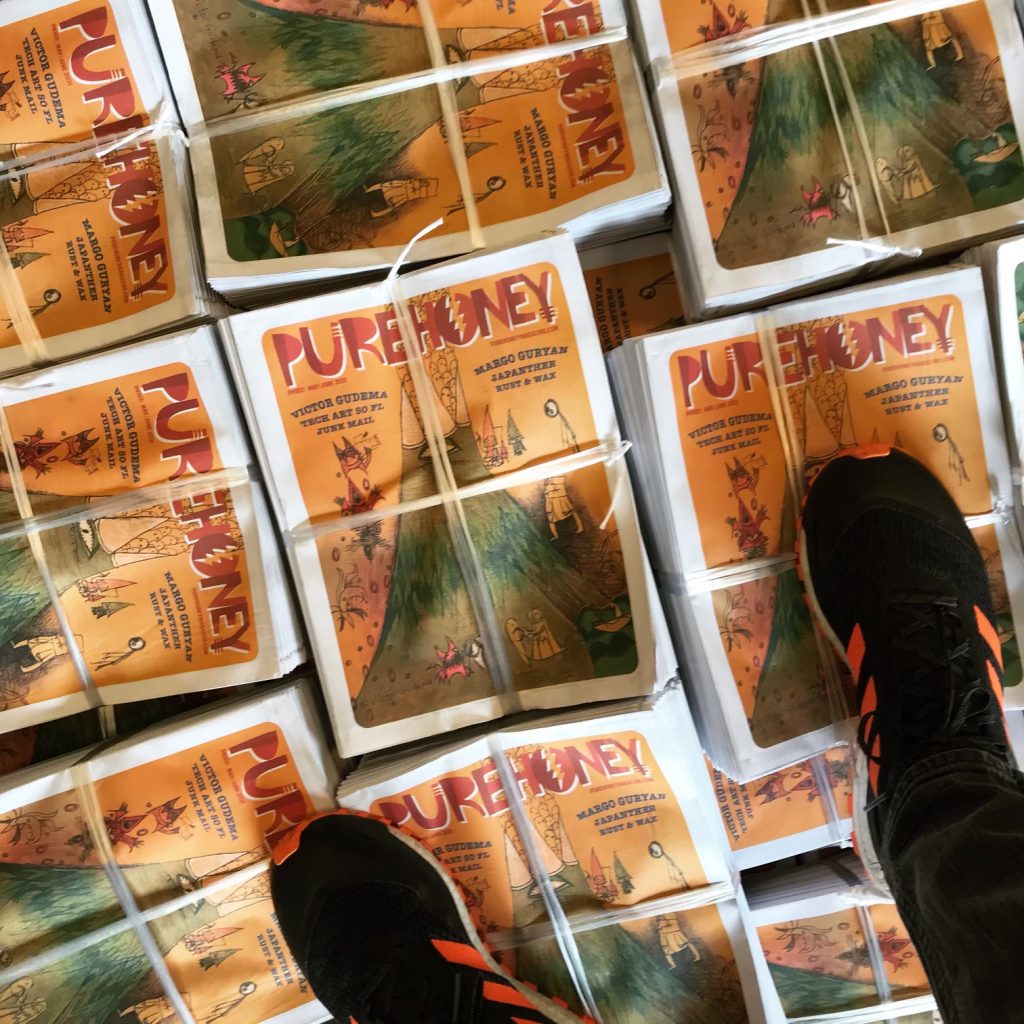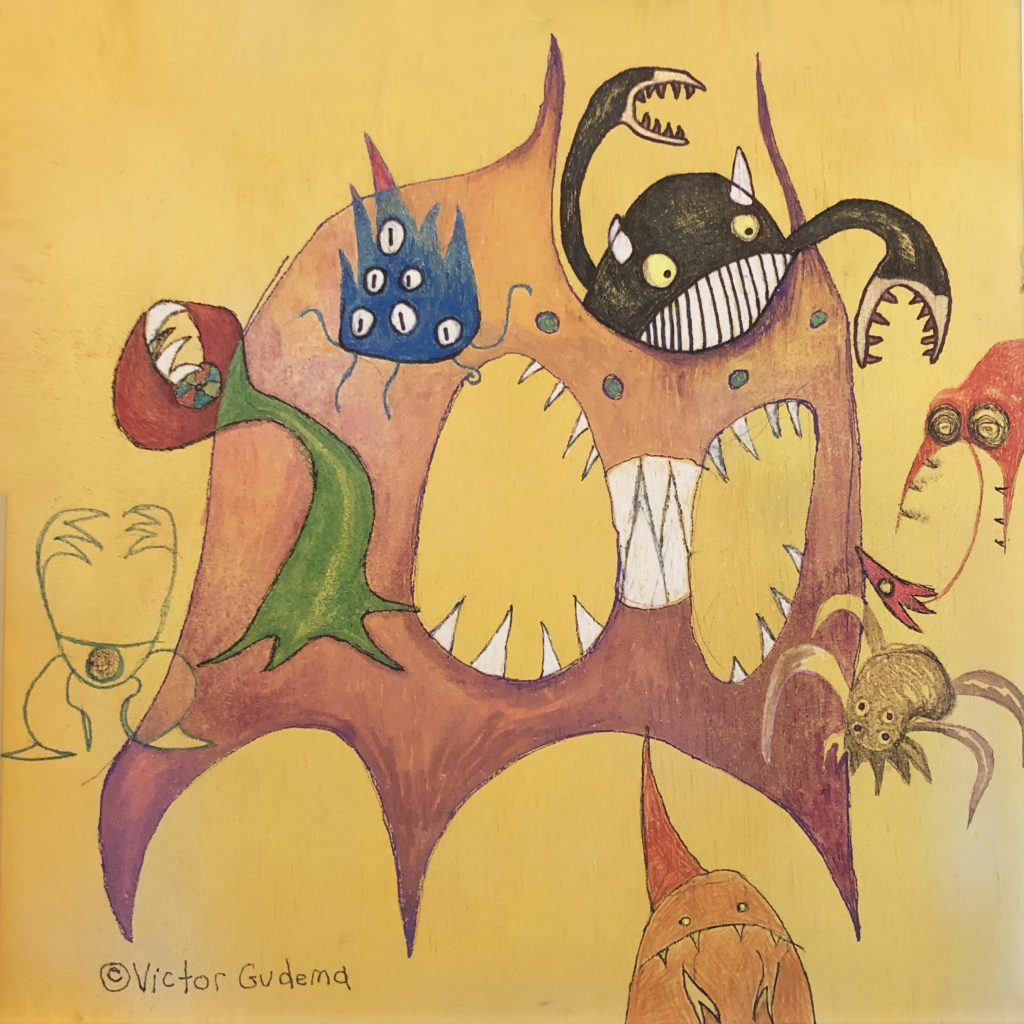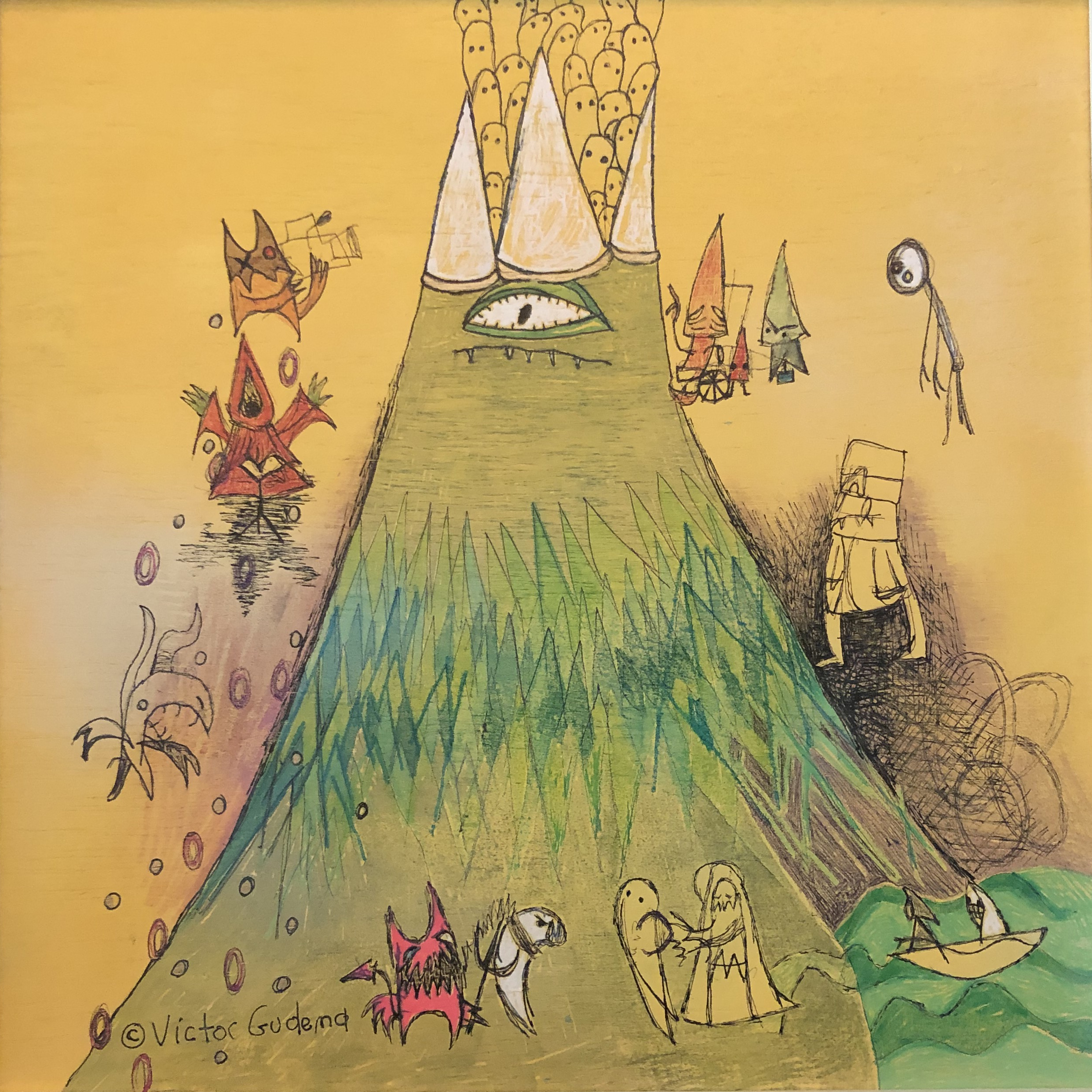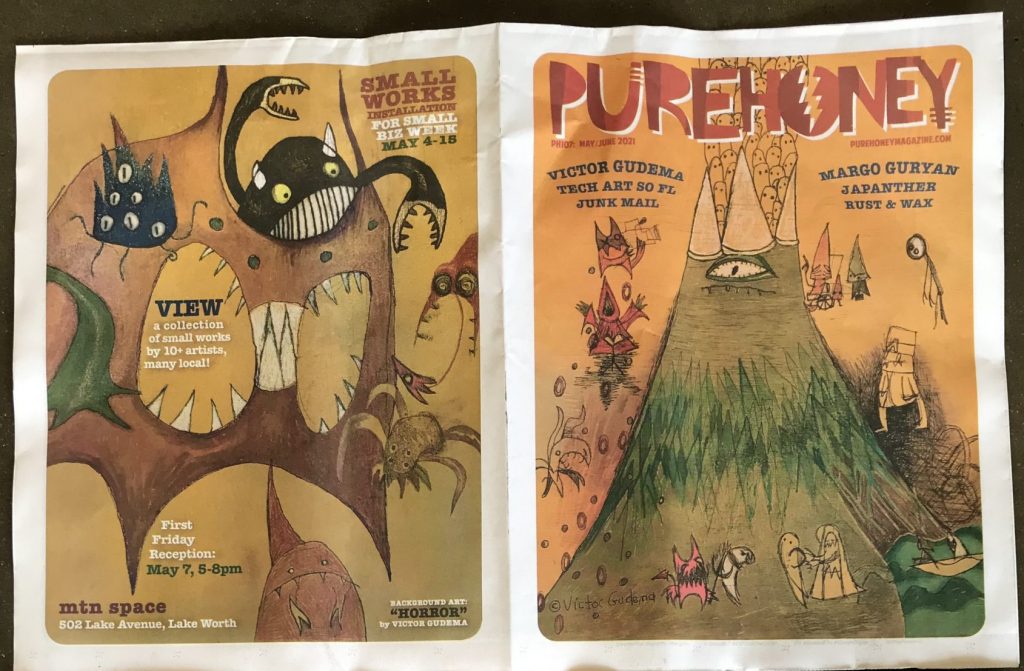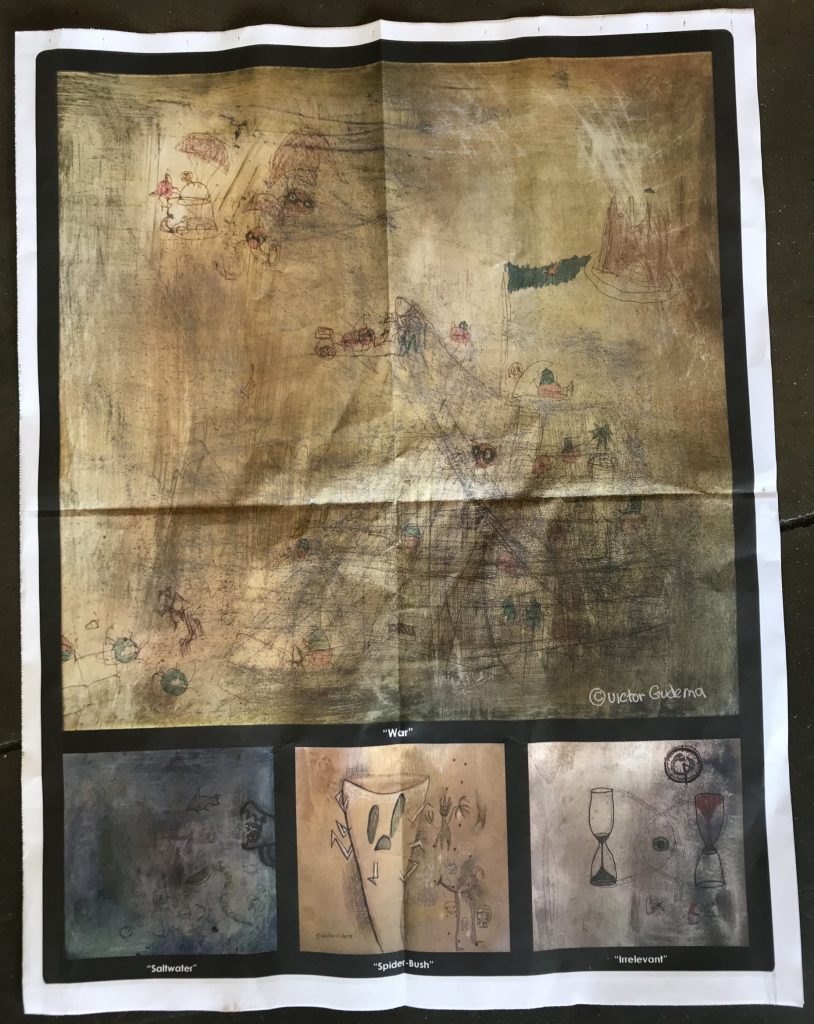 * INTERVIEW
Interview of Victor Gudema, by David Rolland, which was the basis for WORLDS OF WONDER, for Pure Honey Magazine, April 2021, COVER FEATURE.
What first got you into art? 
The first thing I can remember about it is drawing Venus flytraps from my science book around the age of 6 or 7. Something about them made me really interested and it made me want to draw them, or capture them. They were beautiful, dangerous, scary, and interesting at the same time.


Who are some of your favorite artists?
People tell me they are reminded of Hieronymus Bosch when they look at my pictures of detailed worlds, but I specifically like the guy who drew the art for the game DON'T STARVE Jeff Agala from Vancouver (Artist and Creative Director. Art from Don't Starve, Oxygen Not Included, Hot Lava and Mark of the Ninja).


Can you walk me through how you create one of your works of art from start to finish? Maybe "Horror" or "The Great Moment"?
I commonly draw on paper until I have an idea I like and then I paint some wood and then I draw over it and then add color last until it feels done. I'm not a fan of solid lines because they look immature. 
When it comes to art I'm against the word "modern" because it can mean anything. You could spit on a sheet and call it modern. But if you're just about making things look real, like traditional historic artists, making something that just looks like a photograph, then there's no meaning, there's no story. We already have photographs for that. 
I want people to see my images and think "Maybe if I keep looking at it I'll see something more." If I drew a tree, you might have to spend 10 minutes looking at it to figure out it's a tree, and it may be a crazy tree, but at some point our brain will accept it as good enough, and we like that because we want something we haven't seen before. I want people to wonder 'how did he go from a regular tree to this?' Let them make up whatever they want about it: pain, sadness, fear, happiness, humor, that's how you win at art. But really you can't win at art, you can just get popular. 
We consider doing what previous artists did but don't want to because we want to make something new, so we think that modern art means you make it hard to understand, but my drawings are hard to understand because they are the scribbles of a madman.
The great moment is based exactly off of 2 things, the first thing is a song I was listening to when I drew it, "Custom Mario World Theme Abstract."  https://www.youtube.com/watch?v=WuWA-h2PHnk
The second thing is the actual meaning. I was thinking about Greek mythology and Catholic legends mixed together. This is supposed to be purgatory, a sort of waiting room, according to Catholic views, and what's underneath it. 
You can see the process of people arriving through the river, that's why the river is green because in the movie Hercules the river was green. "The Great Moment" is the moment that all of the souls are released from purgatory. 'Assassin' from another painting is shown as a child with his mother who is holding a purse and his gran-pappy who is in a wheelchair, and the sea captain from another painting is here too. A mask-wearing cult member is being rowed across the river Styx by the ferryman. A goat-man is drawn on the left side and above him is a silly religious hypocrite in a red robe reading from his book that is resting on a stand. Monster-demons are torturing the bad ghosts on the bottom. Most of the things and characters I make up have a common shape, like a curved sort of M, this symbol is the start of most characters, like the purgatory mountain starts with this shape and then I give it more detail.
"Horror" is filled with the Monster-demons that you know are there, but you can only see them for a second, from the corner of your eye.  These are quite literally demons which remind me of my insomnia, the things you would see if you didn't sleep for 2 days. The black thing in the upper right is based on a very terrifying daydream I had while I was biking, a horrifying thing staring at me over the fence when I came home. The red worm on the right has an umbrella on its tongue with an eye. When I draw them I can control them, they don't control me, and I'm glad they're not real. 


What are some of your hobbies besides art?
I actually don't have many hobbies. I love my paper abstract figures, I'm very proud of those. People call it origami, but its not that, you fold origami and I just cut these, there's no word for what I'm doing with my paper cut outs. Most of them are bugs and crustaceans, which are perfect because of their symmetry.  I'm somewhat near a person who even though I've been studying it for 6 years I play the piano like I just started 2 weeks ago. I'm just a person who's generally trying to survive.


Your artwork was recently featured at Art & Autism Expo. What was that experience like for you?
I got very mad because I thought they were saying I was autistic, or was included because of my weaknesses instead of my strengths, and I had a panic attack. I don't want a bunch of labels on me and I don't want to have that define me. I'm proud of who I am but I want to be special for what I do. But I'm very excited about being involved because I'm being featured somewhere recognizing my art and that's what I want most of all in life. 


What are your plans for the rest of 2021?
Eat, survive, and finish that drawing of a rustic house and a lamp with a face that I've been planning. 
* VICTOR GUDEMA
Victor Gudema is a fifteen year old boy who has many unique qualities, only some of which are having Aspergers, ADD, and OCD.
He creates drawings and paintings of some of the images that he sees vividly in his mind, often experienced not just in the imagination, but in a very real way. You will see heroes, monsters, mobsters, and mythic creatures floating across his compositions that are done in paint and ink on wood panels. He has very specific narratives about the lives, talents, and purposes of his creations — they all have in-depth backstories! Some entities are those that frighten him, some make him laugh, and some give him hope or feelings of protection. Creating his artworks help him slay the dragons and cheer with the heros, and release them from his mind.
In addition to making his artworks, he enjoys spending time with his pet cat and dogs, playing and making up designs for video games, reading, riding his bike, and playing in the park with his brother Max.